If you've been looking for some fantastic crypto projects to invest in, you've probably come across Polkadot, one of the top 10 cryptocurrencies by market cap. However, Polkadot is not as popular as other cryptocurrencies like Bitcoin and Ethereum, so you might be wondering what it is and whether it is any good.
In this article, I'll help you understand what Polkadot is, how it works, and whether it's a worthy investment.
What is Polkadot?
Polkadot is a heterogeneous blockchain network that promises to bring scalability, interoperability, and security to the crypto world.
Polkadot, often referred to as DOT in the crypto community, has been touted as the next generation of blockchain technology.
The platform connects multiple blockchain networks, making it possible to transfer both tokens and arbitrary data from one chain to another. Essentially, it's a platform where other blockchains can participate, much like how HTML is the building foundation for websites, browsers, and servers to communicate.
Launch Your Blockchain
On Polkadot, users can launch and operate their blockchains on top of this leading network. The platform connects skilled developers, project leaders, and architects.
Polkadot was created by Web3 Foundation, a Swiss company whose aim is to build fully decentralized and user-friendly internet software protocols. It's one of the most funded blockchain projects, garnering roughly $200 million in investments.
The project's initial journey started in 2016 after Dr. Wood – Ethereum's co-founder – authored DOT's whitepaper. Other co-founders who played a key role include Robert Habermeier and Peter Czaban. By October 2017, the project had accumulated over $145 million in Ethereum during its ICO.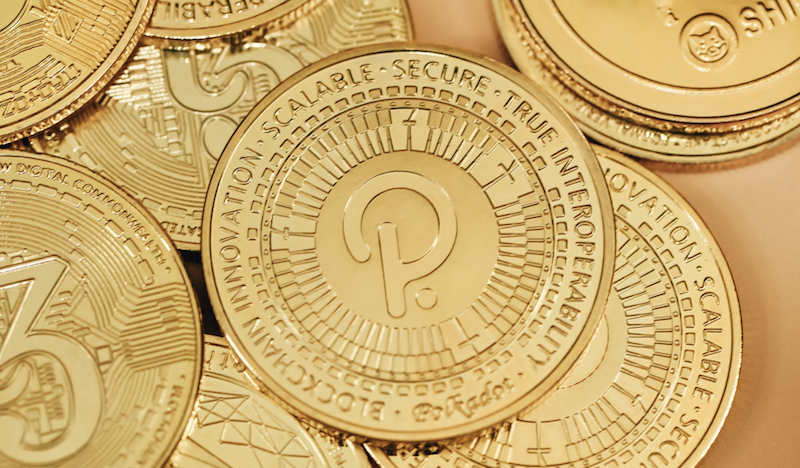 Is It Worth Investing In?
Since its launch, Polkadot has gained almost 800% and has become one of the largest communities with a pool of trusted developers. Polkadot coins can be used for different purposes, including governance, staking, and bonding.
Here are some features that make Polkadot such a fantastic project
True blockchain interoperability: You can leverage DOT cryptocurrency to do cross-blockchain transfers for tokens, data, and digital assets. In other words, Polkadot can interact with external networks, unlike 80% of Dapps built on the same network.
You can create Smart contracts and new blockchains.
It's easily upgradeable: Unlike other cryptocurrencies that require a hard fork when upgrading, Polkadot is unique. The network can be easily upgraded with a new feature without a hard fork.
It has a governance structure: The governance feature gives DOT holders the power to control and make network decisions. Users holding DOT native currency have a say on how the network will operate. They can determine the network's fees, schedule when to add new para chains, and even auction dynamics.
Staking: Unlike Bitcoin, which uses a Proof of Work (PoW) protocol, Polkadot leverages an algorithm known as the Nominated Proof of Stake (NPoS) consensus mechanism. Not only can DOT holders stake their coins to earn rewards, but those staking tokens can also nominate validators they deem fit to secPoldakot's network. Validators have voting power, meaning they can make critical project decisions.
Speedy transactions: Polkadot can handle mass transactions thanks to its technology of para chains that reduce congestion on the leading network. Parachains leverage Mnetwork's computing resources to validate transactions. For this reasPolkadot'sot's network can handle over 1,000 transactions per second (TPS). In contrast, Bitcoin can handle seven transactions, while Ethereum is limited to only 30 trades.
The Technology Behind Polkadot
The Polkadot network includes three types of components:
The Relay Chain: This is the primary network or main blockchain. It handles "network'srk's shared security, consensus, and cross-chain interoperability"ty." Transactions are finalized on this primary network. This major chain uses a proof-of-stake consensus mechanism.
Parachains: Feeding into the central chain are multi-parallel chains (user-created networks) known" as "Parach" ins", which are essentially customized blockchains. Each para chain is a standalone blockchain, having specific logic and features. Parachains can be customized for numerous, diverse uses. The parachains offload weight from the main relay chain by using the network'sork's computing resources to validate transactions.
Bridges: Bridges link other blockchains outside the network to interact with Polkadot, making blockchain interoperability possible. This framework allows different blockchains to transfer value and data without going through an intermediary.
Polkadot's relay chain is built on a technology known as Substrate, a software development framework that allows developers to create customized blockchains (para chains). This means you can make your own blockchain from already-made components.
In addition, anyone who locks the native currency DOT to support the network can take any of the following roles:
Validate transactions across para chains.
Perform upgrades or network fixes.
Add new para chains (bondiFishermen'smen's role is where a DOT holder monitors the network checking for inappropriate behaviors.
They are collecting roles where nodes keep a comprehensive record of"parachains'ains' transactions, adding them into blocks.
Nominator roles where nodes are responsible for appointing trustworthy validators.
Where Can You Buy DOT?
The most straightforward way to buy Polkadot is on platforms like Coinbase or Binance.
Register on any of these sites and complete the Know-your-customer (KYC) requirements. This might mean providing details like your address, SSN, driving license, and an up-to-date selfie.
Next, set up a crypto wallet, add a payment method, and place an order throughplatform'sorm's trading dashboard.
Other marketplaces where you can buy DOT include:
Uphold
Kucoin
Huobi Global
Kraken
OKEx
Zipmex
Alternatively, you can trade DOT for other cryptocurrencies like Bitcoin (BTC), Tether (USDT), and vice-versa.
The most popular trading pairs on platforms like Binance include:
If you want to swap your BTC for some DOT, ensure your Binance wallet has some BTC. Again, if you sell your Polkadot, your Binance account must have a balance with DOT.
You can also trade DOT through contracts for difference (CDFs). With this option, you can gain some profits by speculating the price movement of an asset between the time you enter the contract and when the trade terminates.
Polkadot CDFs
CDFs are a contract between you – the investor, and the broke' or 'seller'. The agreement dictates that either of you will pay a sum equivalent to the difference between the opening trade (time contract is signed) and closing trade (time contract is terminated). If there is a loss, the trader pays the broker the difference.
With this approach,don'tdon't hold DOT in a wallet. Instead, you merely enter into a contract with an online broker – where this contract is stored in your account. By investing in Polkadot CFDs, you can trade DOT by speculating its price movement in both directions.