The last decade has witnessed technological advancement on a colossal scale. This can be attributed mainly to mobile phones' penetration and the internet in most parts of the world. Most of the world's population has access to a phone, the internet, or both. This is why mobile Trading is the future. We have gathered what we consider to be some of the best mobile trading platforms on the market.
Mobile Trading forex and Stocks
With both smartphones and the internet readily available, it was only a matter of time before most services, including stock and forex trading, became mobile.
Mobile Trading refers to mobile devices, such as smartphones and tablets, to trade securities and currencies. Seeing the uptake of mobile computing, most stock and forex brokers have invested millions of dollars in providing platforms that allow users to trade on their phones. Through these platforms, traders can easily access their poeTorortfolios actively and in real-time.
Why Is The Best Mobile Trading Apps On The Market Important?
Trading on the minute – or even on the second is often crucial for the trader and can be the difference between gaining or losing thousands of GBP. Therefore many traders trade on their mobile phones, and therefore, the latest mobile phone equipment is necessary for trading online. Three things then become important – your mobile phone, your Internet access, and the quality of the mobile trading app that you are using.
Below, let's look at four of the best mobile trading platforms.
eToro Is Mobile Trading At It's Best
Founded in 2007, eToro is a trading platform that provides copy trading and financial services. Founded initially as RetailFX by two brothers in Tel Aviv, eToro enjoys a massive following worldwide with more than 10 million users. What makes eToro stand out from other platforms is its unique copy trading features and the fact that it also offers cryptocurrency trading services.
Copy trading is a feature that allows inexperienced traders to mimic the trades and strategies of more successful traders. This makes learning a lot easier and quicker for beginners. eToro also acts as a social platform, allowing traders to interact with and learn from each other.
The eToro mobile trading platform is highly secure, using a phone-based two-factor authentication to enhance security. Their mobile application is also relatively clean and user-friendly and is available both on Android and iOS.
Opening an account on eToro requires an initial deposit of $200. However, users in the United States and Australia can open an account with deposits as low as $50.
The AvaTrade Mobile Solution Is a Strong Choice
Founded in 2006, AvaTrade is an Irish trading company based in Dublin, Ireland, and enjoys a massive following in Europe. A few years after being founded, AvaTrade grew exponentially to over 200,000 users with at least 2 million transactions monthly, surpassing $60 billion.
Creating an account with AvaTrade is relatively easy and straightforward. For beginners and amateur users, the platform offers a free demo account where they can learn the ropes quickly and on a real-time basis without risking their money.
Once they are confident enough, the user can open a live AvaTrade account, link it with their bank account and deposit real cash to start trading. What makes AvaTrade stand out from other platforms is that it also offers Islamic accounts.
Additionally, AvaTrade has bots that can trade on behalf of users. They are straightforward to program and customized to a specific trader's criteria. It also has a 'Guardian Angel System' that uses highly advanced analysis to lower its trading risks. The Ava Trade mobile platform is available both on iOS and Android.
The XM Trader Mobile Platform
Touted as the next-generation mobile trading platform, XM Trader was founded in 2009 and has grown to become one of the world's leading mobile trading platforms. XM Trader currently operates in over 200 countries, with more than 1.5 million users. XM Trader's rise is attributed to its highly user-friendly mobile trading platform. All the processes from account opening, depositing or withdrawing, and Trading have been made super easy. XM Trader is available worldwide, including in Africa and Asia.
Opening an account with XM Trader only requires an initial capital of $5. The platform also provides competitive trading conditions that increase a trader's experience. Like the other trading platforms covered above, XM Trader provides Android and IOS mobile applications. The applications provide users with an easy menu that can be customized to the trader's taste. XM offers four types of accounts; Micro, standard, XM Ultra-Low Account, and a Shares account.
Like Ava Trade, XM Trader provides a free demo account where new users can get acquainted with Trading without worrying about losing their money. The demo account only needs a few personal details to sign up. It is loaded with a virtual balance of $100,000 and has no deadline on the length of usage.
Additional features that XM trader offers its users include a free Virtual Private Server that enhances trading speed and free deposits and withdrawals.
Fidelity
Fidelity is a US-based trading platform founded in 1946. The company is regulated by the SEC and is therefore considered very safe by its clients.
The Fidelity mobile trading platform is one of the very best in the industry. You can customize your feed on the app to show content tailored to your needs and customized market and research information.
Through the app, you can also view your portfolio, deposit checks, make and manage trades, view your trading history, transfer funds to other accounts, and so on. The app also allows you to create alerts sent to you via push notification whenever certain events occur in the market.
The Fidelity app provides various features that allow you to gain insights into multiple markets to keep on top of the market. You can also choose the different fields that you want to be displayed on the app for each stock viewed, such as earnings date, EPS, 52-week range, dividend information, and so on.
Like all the other mobile trading platforms covered here, the Fidelity mobile trading app is available on Android and iOs.
Best Mobile Trading Apps UK
Of course, the UK is a large market for us and where many traders traditionally trade. However, with England, Scotland, Northern Ireland, and Wales stepping out of the EU UK have lost its trading activity. Still, the UK market is a vast trading market. Because of the new EU situation, we have looked specifically at the UK market's best mobile trading apps.
Best Phone For Mobile Trading
Mobile phones are a region for many people today. Devoted iPhone followers would not dream of using another mobile phone, and Android phone users would never touch an iPhone, which is often considered too expensive. Therefore, when choosing the best phone for mobile Trading, no brand is better than another brand. Choose the phone which you prefer and stick to it. One crucial thing in this matter is that you should not buy the cheapest Samsung, iPhone, or another brand since you need a great phone with enough power to drive your trades.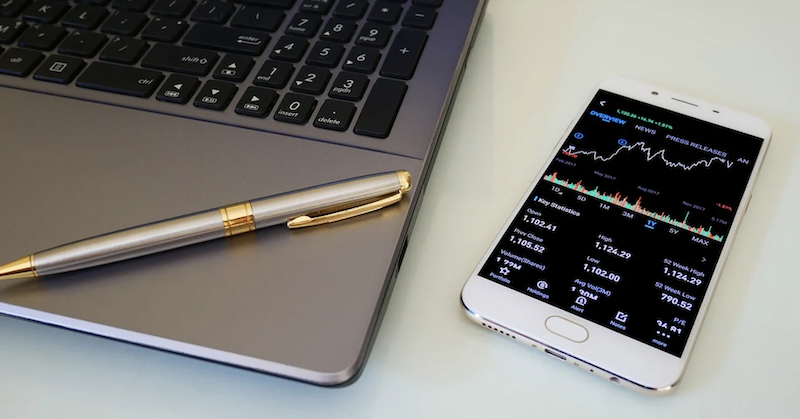 Best Mobile Forex Trading Platform
This article has been looking at the best mobile trading platforms in general. However, if we only evaluate the best Mobile forex trading Platforms, the result is almost the same. In this matter, it is always a good idea to look at how many valuta pairs the different providers offer. The number of valuta pairs provided gives them a slight advantage over other mobile trader brokers mentioned in this article.
Wrapping Up – Best Broker For Mobile Trading
The rise of mobile trading platforms has revolutionized Trading. Mobile Trading has made it possible for people to trade on the go from anywhere in the world. So whether you want to make trades from the comfort of your sofa, view your transactions while on the go, or keep on top of market information to make timely trades, the mobile trading apps covered in this article are some of the very best you can use.
If We were to Choose the best broker for mobile trading based on our research, we would probably choose eToro or AvaTrade's mobile trading solutions. Both brokers provide a mobile trading platform that is easy to use and supports an excellent trading product. Both brokers' mobile trading products are some of the best on the market.